Being as its winter here..and I doubt I'll get in the garage much, anytime soon..
Wanted to post this idea/concept I had in my head..
while the pics are of a 'core/tube' type chassis this same concept could be used to an open 'sled' type chassis as well.
I talked about this with Fender a bit as well.. although the reverse sound one is not 'pictured'..
I think the idea is sound.. and this is just a roughed out idea..(including the cuts!!)

Im sure someone can tweak/fine tune.. find a better way. (in theory, a bearing wouldnt even need to be used..but makes it smoother)
Pros:
nice way to secure your core/chassis to your pommel for easy removal
no twisting wire problems
Cons:
mod'ing the speaker holder is PITA.. because the stock speaker OD is big.. I ruined s peaker mounted.. and that one pictured 'was ruined' but salvaged..lmao
in certain pommels, it wont work. (to close to end for insert)
not a lot of resonance
Together view: (not in pommel...but a possible end result could be)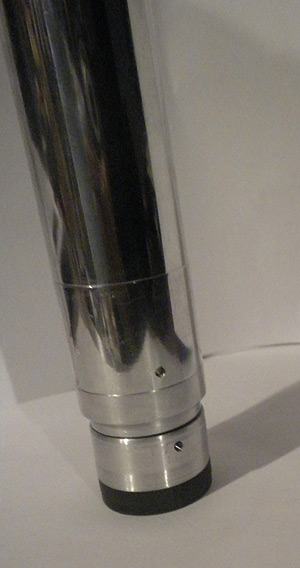 Here is I have my 'core' (main tube) that can hold soundboard & batteries.. the top portion is just added from another past project.. (but is one possibility)..
that top part also have a bearing in it.. and can 'spin'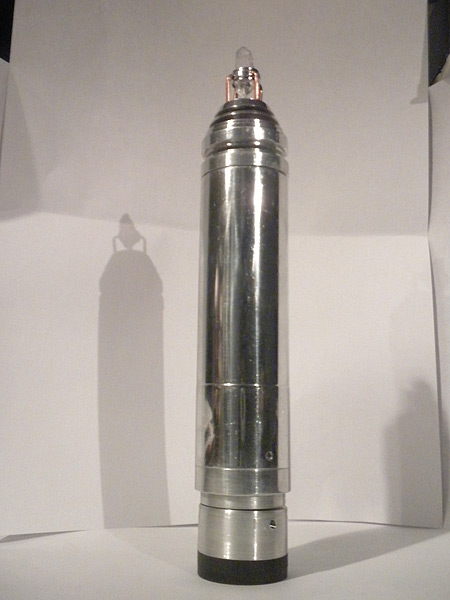 The 'main' part..(together)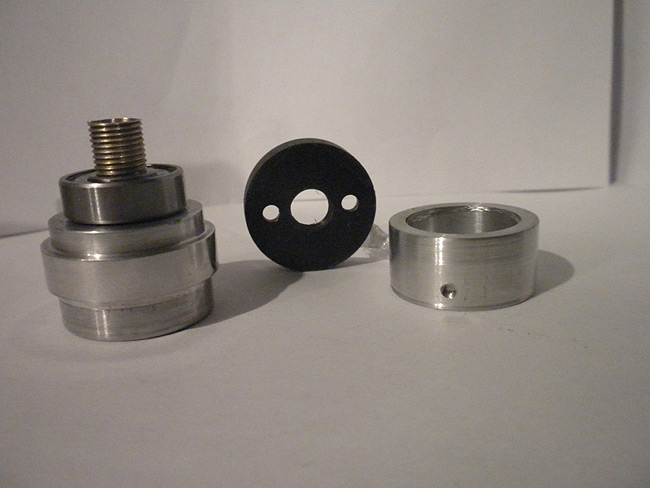 The main part(s) (what is consists of)
turned 'stem' to fit bearing.. (can see similar in background)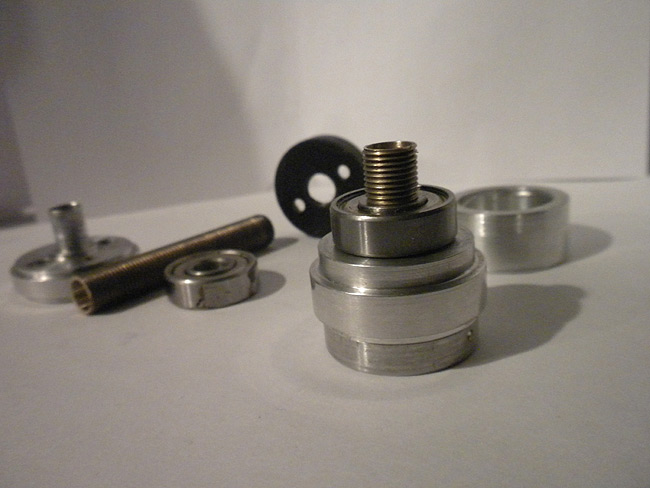 Bearing got on stem..
I cut a piece of some external threaded tubing I had NPT 27 tpi I think?.. hollow..
that is actually press fit on there..and is not coming off.. but could be glued just as well little dab only..
it helps keep the bearing in/down... and the threaded part is used to secure the back of the MHS speaker mount.. (NPT 27 tpi tap...I'll have to look up exact size off hand)
the MHS speaker mount is turned to OD that fits INSIDE the pommel ID...easier to just bore out the pommel a bit though to be honest..save your speaker mounts from being wasted..lol.. hard to leave a 'wall' to snap the speaker into
there is a 'ring' with the ID of the bearing OD.. and the OD of a pommel ID
this slides over everything (stem, bearing, NPT secured threaded end)..and has hole tapped so set screw locks ring to bearing..
now you have your free spinning 'ring' that the pommel makes contact with..leaving the speaker/mount secure/non-moving
you get this: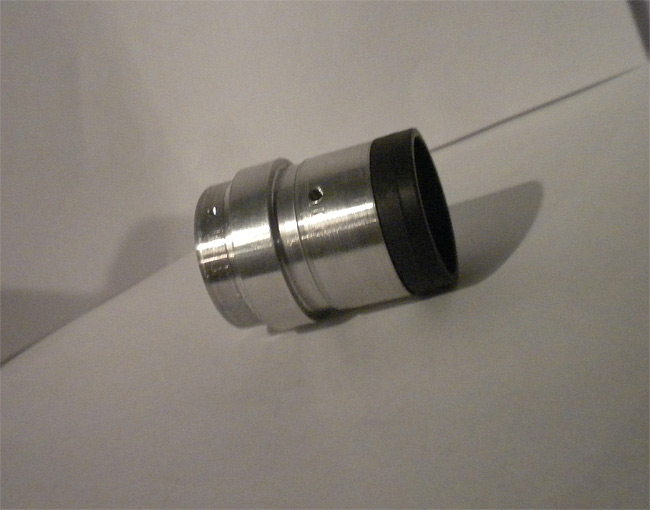 the speaker side.. (see how its threaded through)... maybe dab of glue too?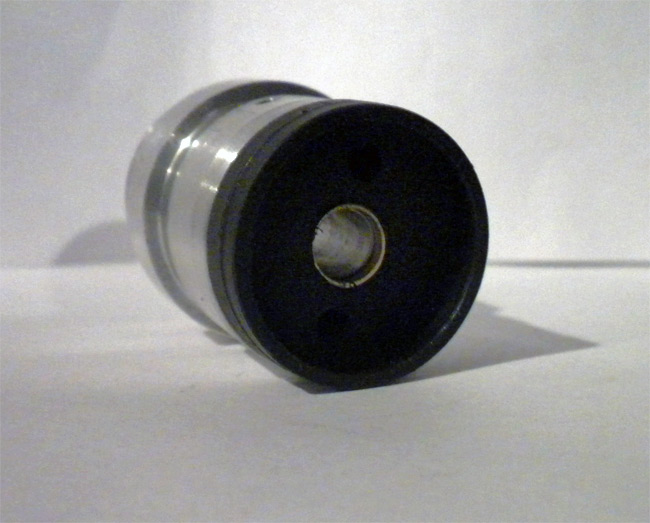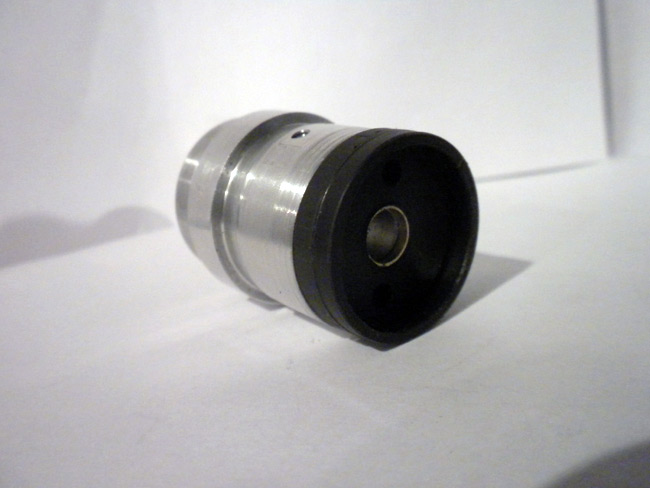 alternate pommel (still works)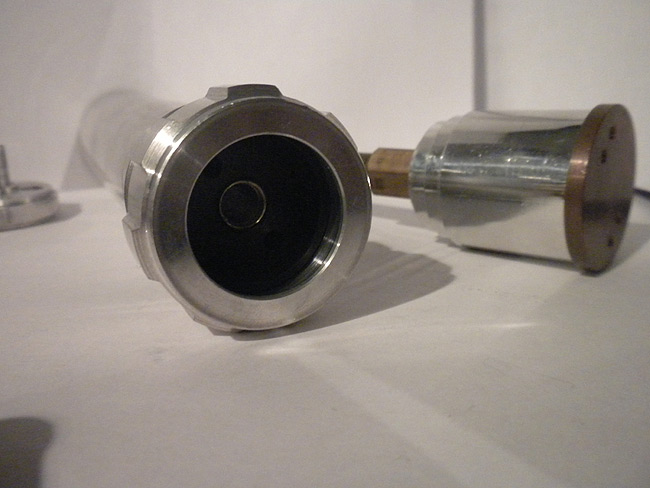 off-topic:
Here is the top portion.. (although a bit off topic)..notice similar 'stem/bearing' system..
but this time a top part goes over the bearing.. (set screw secured to bearing)..
and it spins the crystal, etc..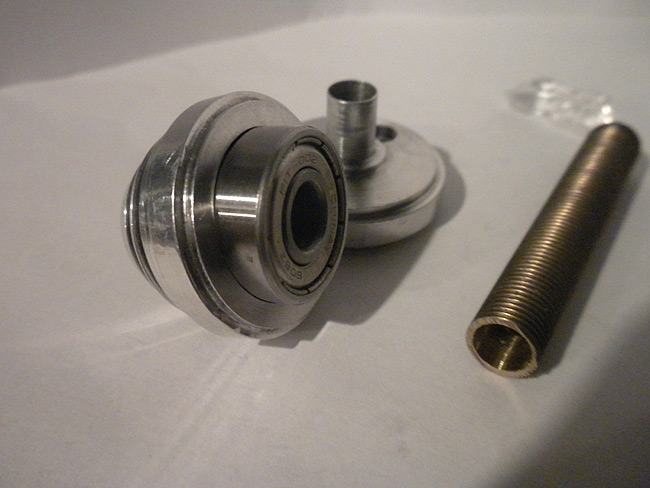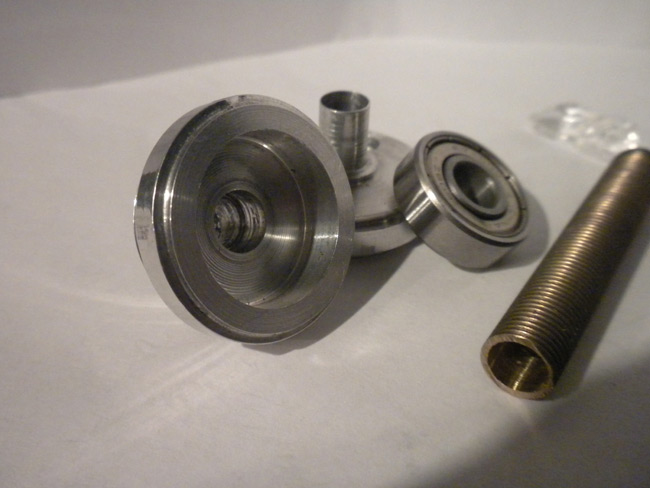 back on topic:
ok..so you take the whole thing..after you secure the 'bearing mount' to your core or chassis...etc..
and it slides into your pommel.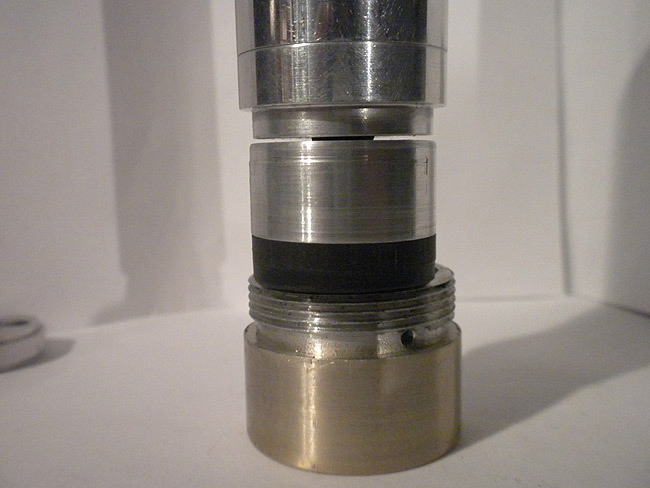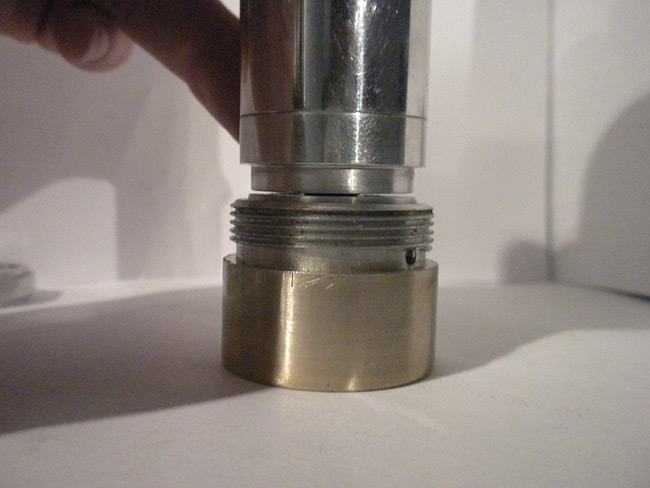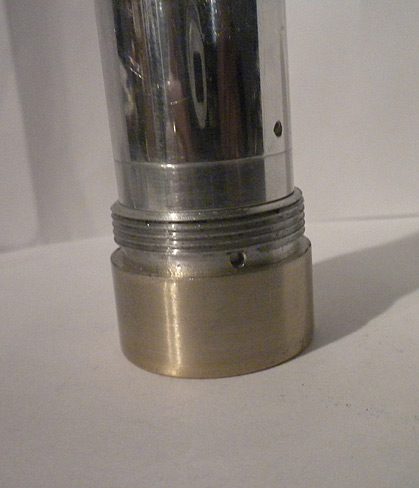 you can see the little drilled & tapped hole in the pommel.. un-obtrusive.. and it secure the pommel to the 'core'..make sure you secure it to the 'free spinning ring'.. and not the speaker mount..
side view: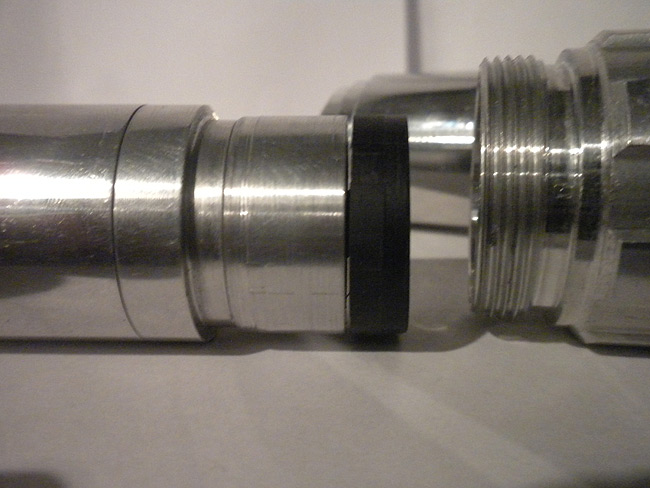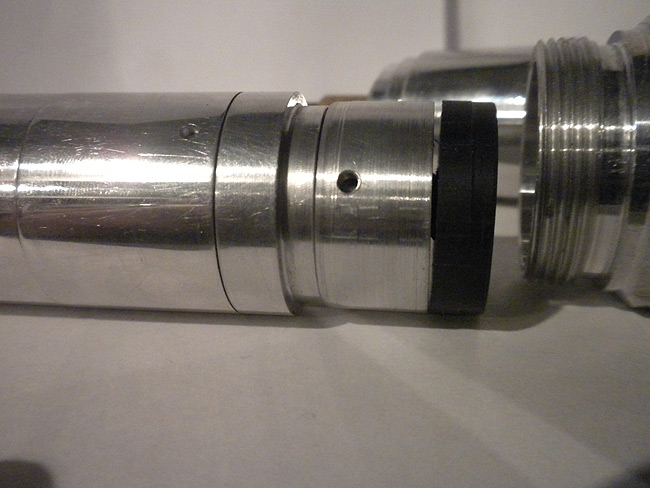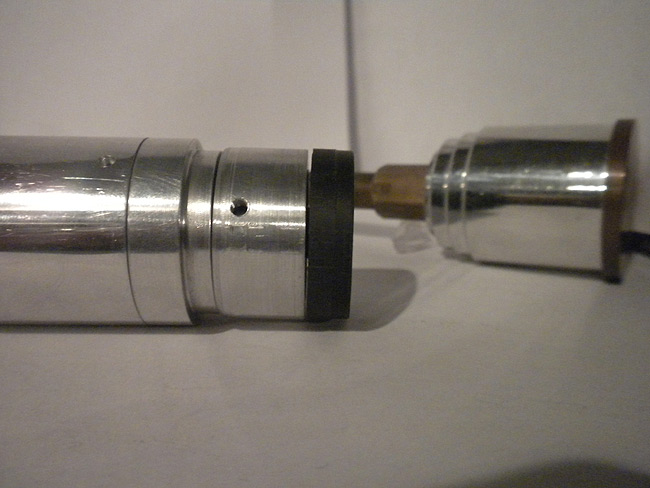 feed back always appreciated,..
Im sure it can be improved upon...so thats why I shared it..LOL
maybe not for every build..but if the case calls for it..here is one solution to apply.
Thanks
Eastern xmas gift (copy of same proto system above)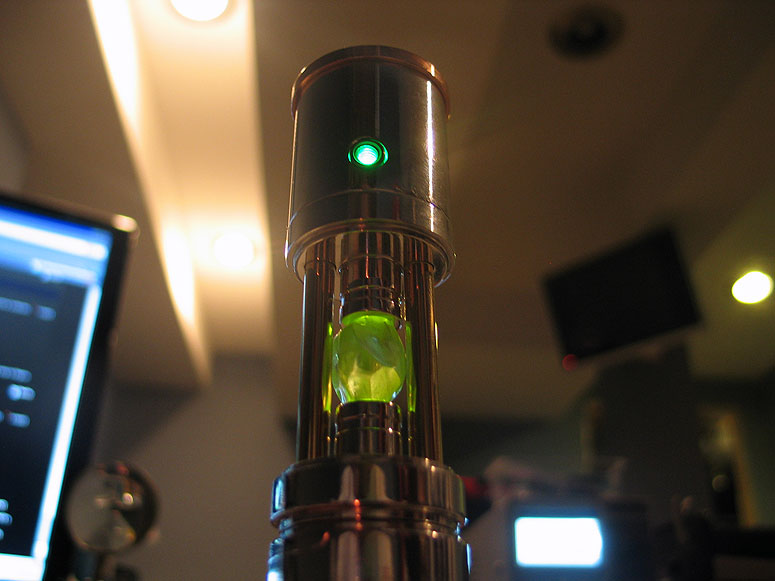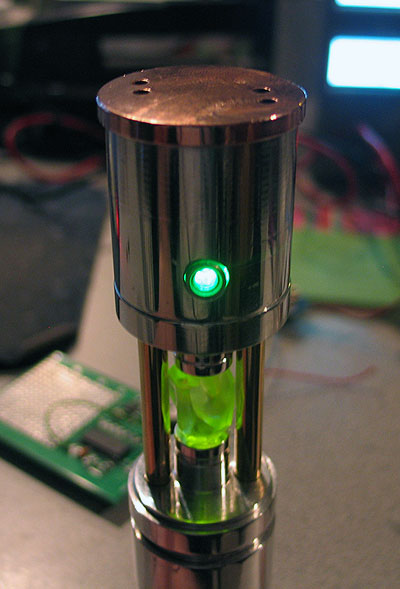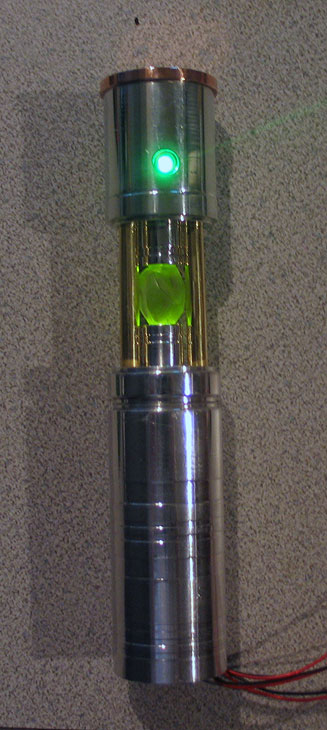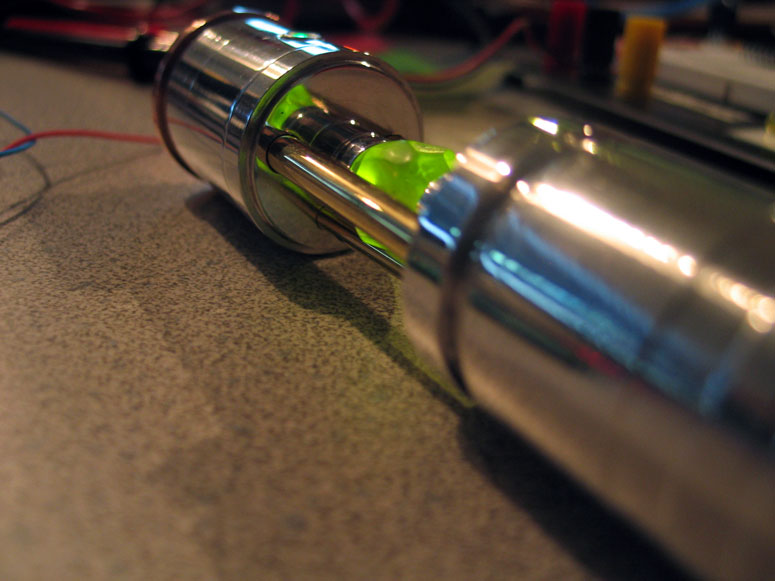 I have a couple more variations on the modular sections/parts..
appreciate all feedback...
specifically on things like:
switch mount/bucket
*standalone vs. part of heatsink bucket
*generic enough for all switch types or maybe 2-3 yes?
battery/sound/speaker bucket:
*size constraints? stuffed 2xAA sized batts and a US2.5 in there.. probably some room for wires..not much else? (not sure of CF would fit due to height.. maybe different battery solution?)
*make both speaker only bucket and attach battery/sound board to 'rods'? or other area? and the speaker/battery/sound bucket? or just the former/later? (maybe milling out some grooves in the bucket will help with space a bit?
heatisnk/led bucket:
*right now the led/heatisnk is part of the 'core'.. should it not be? shoudl there be an alternate 'modular' section you can choose as an 'end cap' to the core?..and then you just run wires from core to led, like in any other normal build?.. of course you would have to choose to either lock/secure the core using the speaker mount end 9liek in normal MHS builds using a pommel speaker mount...or an end cap/section that has the OD of the heatisnk..and using that approach to locking/securing the core to the hilt?
Eastern will be giving a review of his as well when he gets some time to play with it.... maybe covering some of the topics above .
Thanks