This is the ezSportz (widget) wrote using the Yahoo! Sports RSS feeds, I have a few buddies who like sports a lot so this was a good exercise for me..
   Preview: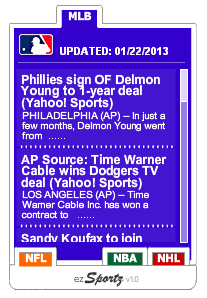 Also has auto adjusting text fields and 'attached' clips. I also limited the desc. text to the first 50 characters.. but can be extended to show or whatever length
this is an ON-LINE version.. (as not to waste bandwidth on people dl'ing the .exe just for feedback)
Preview:
http://www.dmstudios.net/demos/ezSportz/ezSportz_v1.2a_web.html
grabs all the lates YAHOO SPORTS news titles... and links to the full story upon clicking a 'news title'
ezSPORTS logo in bottom bar refreshes all news feeds...
Download REAL Desktop Widget here:
http://dmstudios.net/demos/ezSportz/ezSportz_v1.2.zip
feedback is appreciated.
thanks
UPDATE:
due to YAHOO! changing their RSS feed format.. the ezSports widget will sometimes retun UNDEFINED for some sports articles. Yahoo seems to RANDOMLY either include or not include extra META data in the XML to attach an image or other garbage (in front of all other 'static' data) (rolleyes)
I have corrected this somewhat, (thanks to silentweed at www.flashkit.com forum for turning me onto xPath for XML) but the CDATA still has GARBAGE data in it.. update coming soon.
UPDATE II:
after a quick function to find/split/replace my value.. the ezSportz widget is completely back in action. please down load it again (if you liked it in the first place)