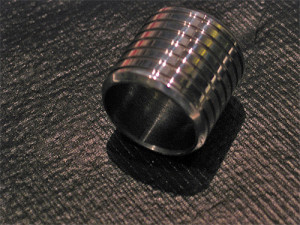 Ive been kicking around this idea for a bit..and actually got started working a few POC's..
however I just dont think they will get the fit or finish or really the customization and coolness 'reached' if these are done by myself.. they need Tims new CNC stuff or ACe..somebody to make them 'top notch'..
such as taper or other mill work..
I think I can only do a few 'styles' with my tools.
anyways.. I tried to explain it to Tim.. but a picture is better..
it follows sorta the same principle as the trim rings do.. the ID is just bit enough to go around the male threads..but not big enough to go around the OD of the MHS parts.. (hence being locked/sandwiched down by the two parts)
well instead of a 'ring' how more of a sleeve.. for decoration.. longer/bigger bezels for switches.. or cut outs for switches..
use them at top or bottom (pommel side)..and pretty much reversible.. could be purely cosmetic.. or functional..
thoughts?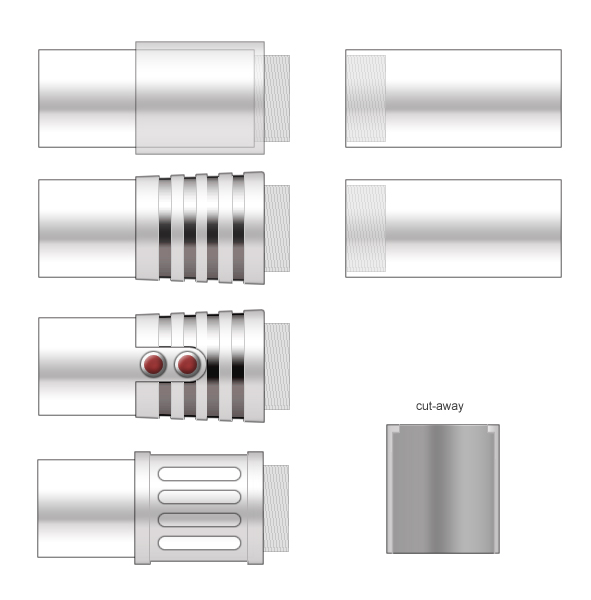 -------------------------------------------------------------------------------------------
Here is one of the P.O.C's (proof of concepts) for my mhs add-on, dubbed, accent trim..
this is only one..but I displayed in both a 'header' and pommel piece/usage.. and I think I really dig the pommel way..
anyways.. no mill or cut out for buttons/switches on this one.. but I think have TWO of these would balance out any hilt nicely.
also.. since it locks down by the pommel or BH or whatever female threaded piece.. you could use an additional set screw to secure it..
and you could have a rotating/sliding 'cover' to display/reveal re-charge ports.. xstal chambers..etc..
anyways.. on to the pics:
the solo part I made: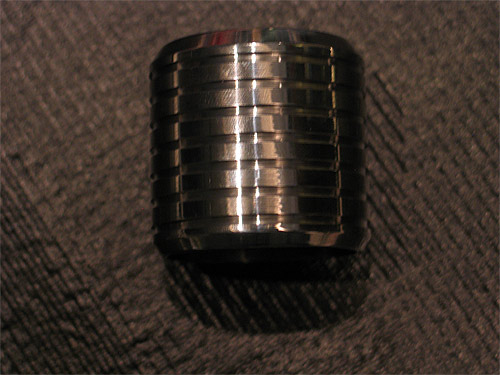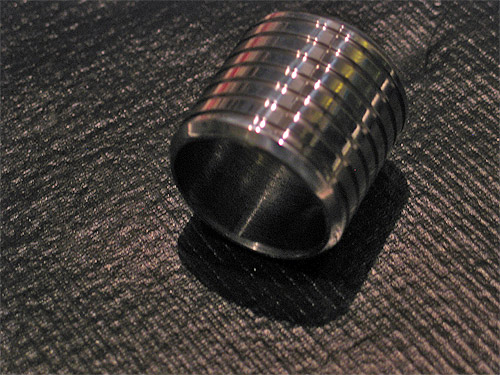 Mock'd up on a saber/test hilt:
as header: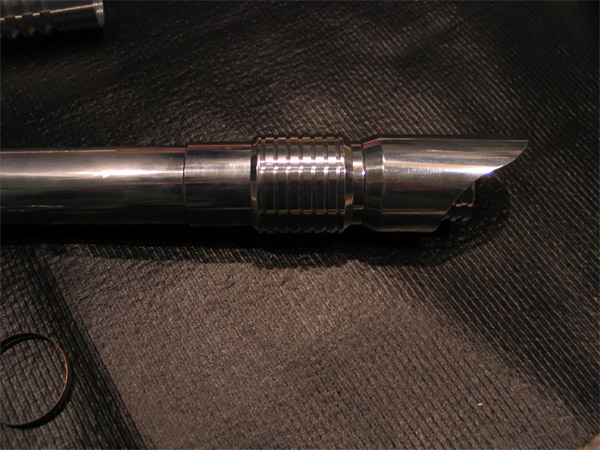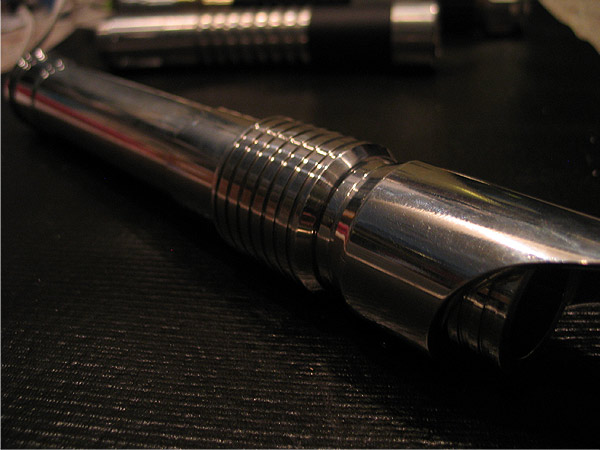 Mock'd up as a pommel: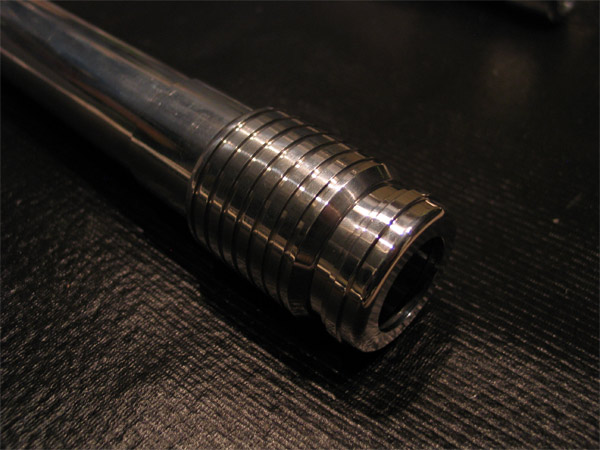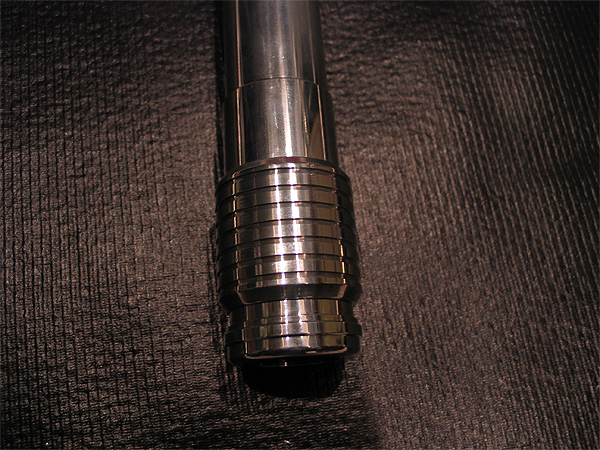 Quick little add-on of brass ring 'section' to spice it up..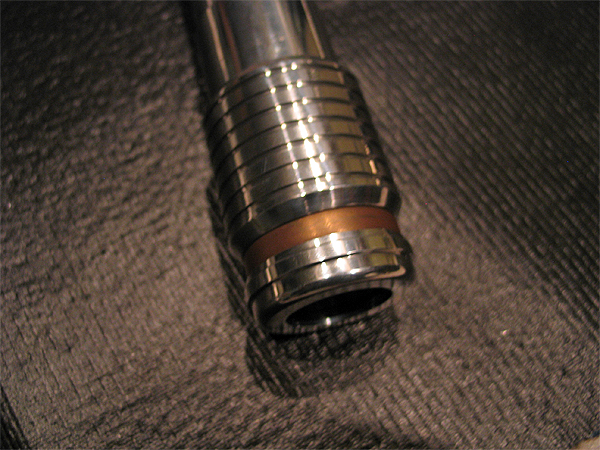 and a size/perspective/overall shot to see how it comes together..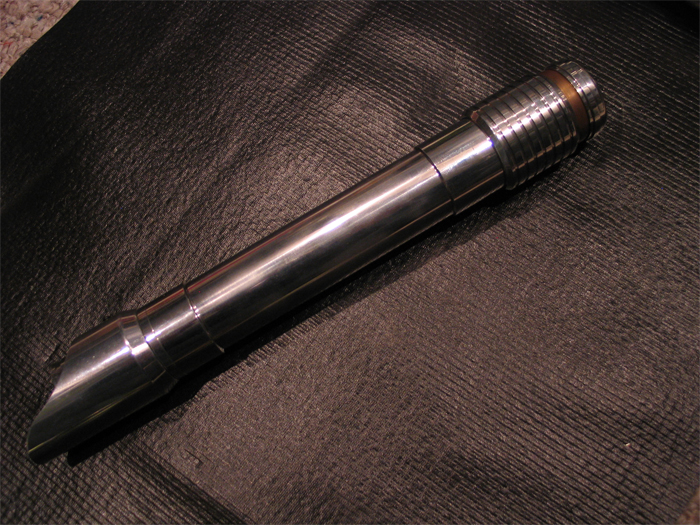 feedback appreciated gang!
overall I, myself am giving both the BH mod with shroud project and the MHS accent trim project passing grades.
I feel they are quality additions, that do NOT take away from MHS, utilize its parts still along with custom parts and customization to make things unique, adding depth and personal choice/taste
I also think these are mods that will add to your final price point when selling.. as they are 'new ideas' will havent 'caught on' yet, and many of can do here.. or have done without it taxing anyones wallet..
with Tims new CNC engraving and mill work.. these accent trim parts and shrouds should be getting some special treatment!
thanks