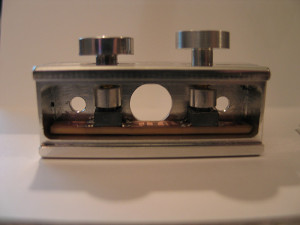 been playing around with a few ideas over the years.. and have worked on a few control box ideas/projects as well...
this one is based off an MHS control box.. with some 'modifications'

things to note:
*has two switches (main and aux) in it.. (one the 'side' of the box.. with custom switches and switch caps/stems
*custom PCB was created for them to mounted, to and mounted to the inside of the box.
*has a 1.3mm recharge port in it
* has custom smd led bar graph (custom made pcb for this as well)
pretty has everything a hilt needs, all located in the......... 'control box'

posting my mock up pics... if things work out good.. (which it look sot be great even).. I'll break it down again.. re-fine...and buff/polish and powder coat for the finished product.
hopefully this gives some ideas for everyone else... make things work for you!.. make what you need...
lets begin:
1.) take your favorite drawing app and make a PCB design.. no special tools.. draw BLACK lines/traces and pads where you want 'copper' to be..
get your copper clad board/section..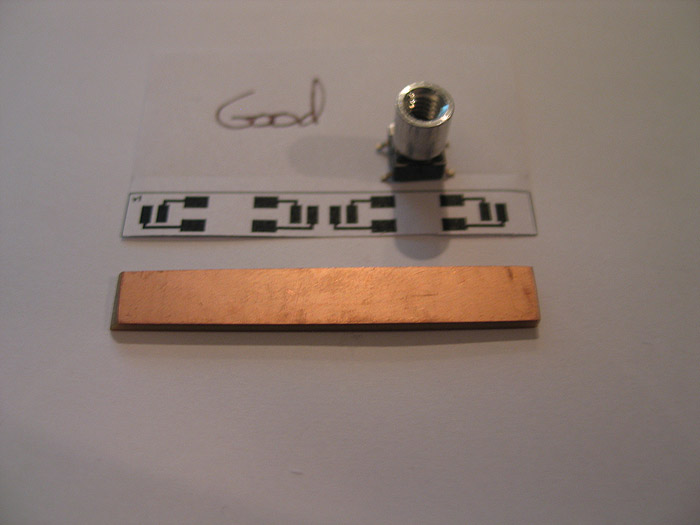 2.) print out image on glossy photo paper.... iron/transfer image/toner to the copper board.. rinse under water to remove paper.. soak in etchant to remove exposed copper: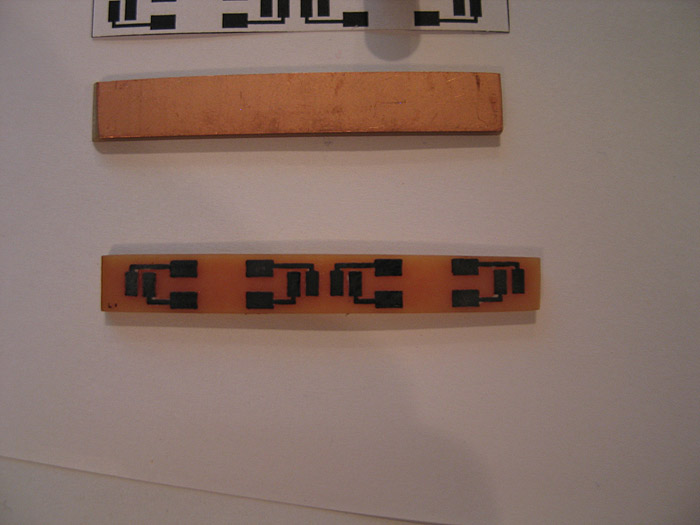 3.) after exposed copper is gone.... use a q-tip and some mail polish remover to remove the toner from the pcb... (revealing the copper/pcb under neath)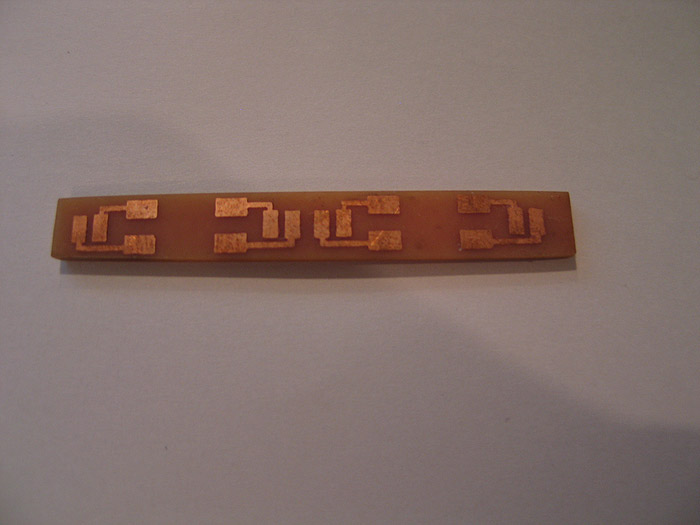 ***(all this above has been posted many times before.. and shame on you for not trying it!... this could have saved your ass in that 'one' project!) =)
4.) mounted my modified switches to their PCB.. (these have the threaded tops on them for external switch caps to be used form outside the hilt.. keeping the main core/chassis/box internals standalone)
several solder pads depending on the need/space available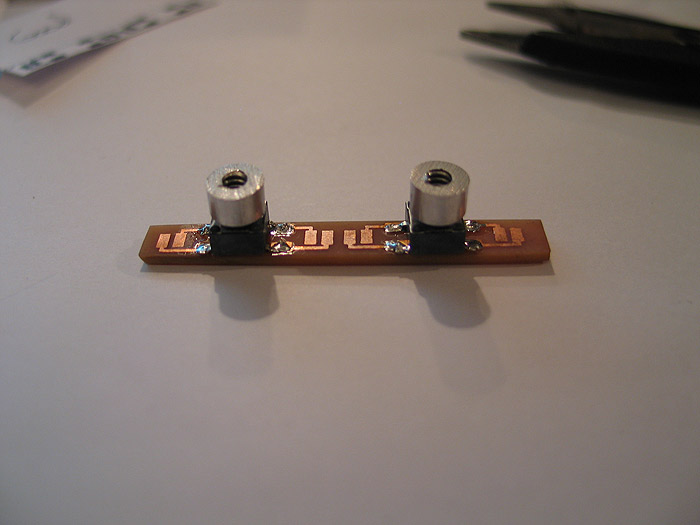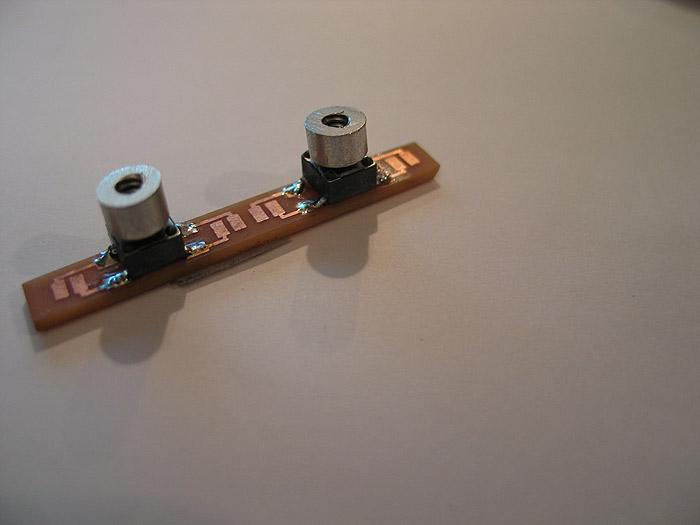 5.) mounted (mocked up) in the control box: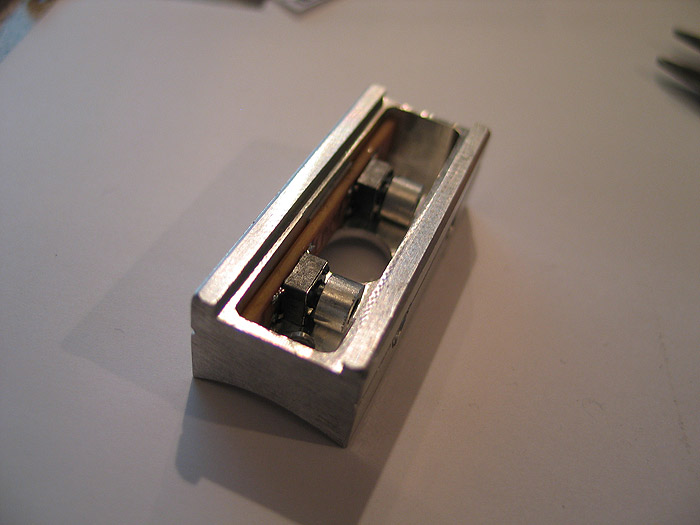 6.) (although it looks 'off' its really just the pic.. things line up great!)
side view of holes and where the switch tops are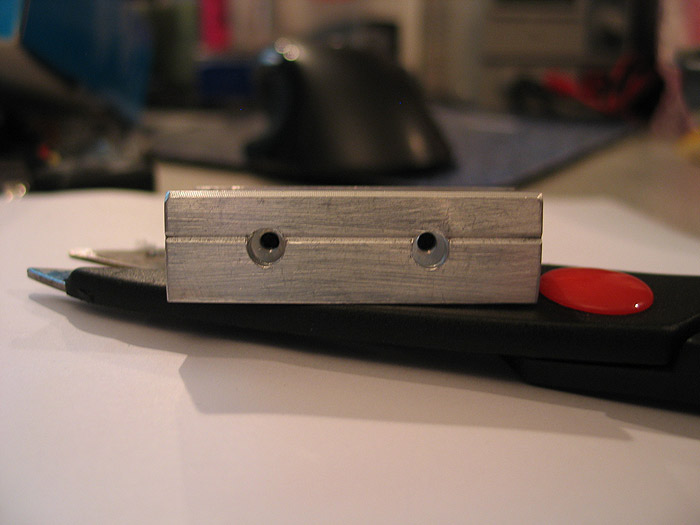 7.) top (custom) pcb made..for the led bar graph.. (this posed a problem due to space.. and the fact that I wanted each led to be addressable for either all direct drive..'or' for CF led.txt sequence..etc.. not to mention trying to do double sided board without through hole plating.. (making my own)..
again.. space was concern.. (both sides)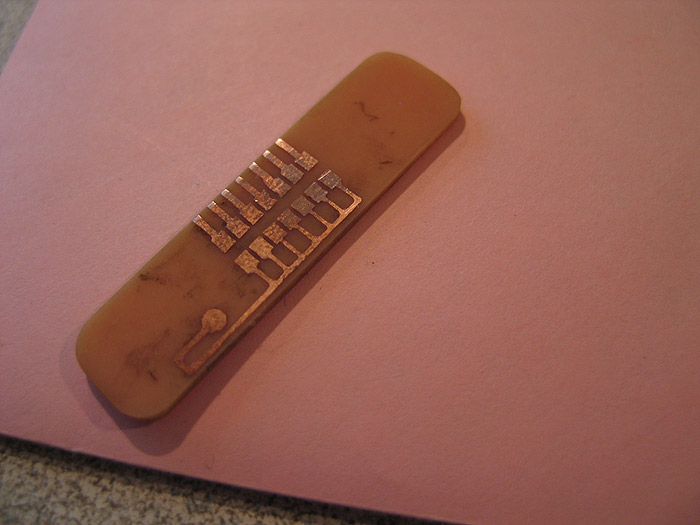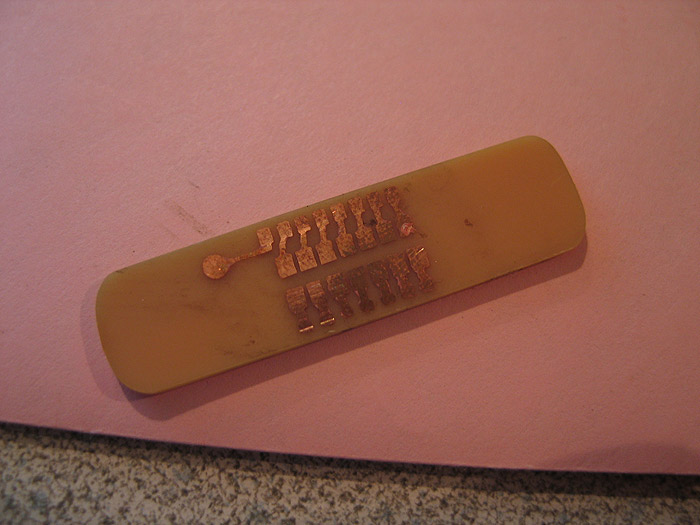 I think an led (possible two) got ruined by heat? or something.. but Im going to replace them real quick. (as they only light up partially)
in the end it will be black box.. aluminum top plate and aluminum switches on the side of the box.
the top 'smd led bra graph' pcb/portion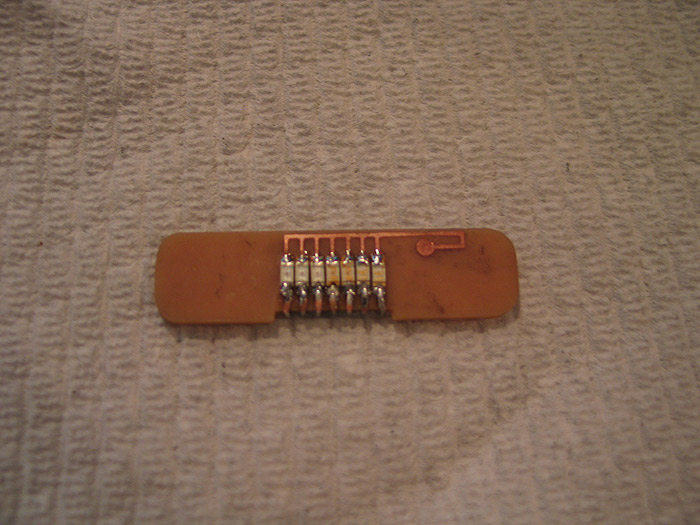 this is where each resistors goes: (bottom of board)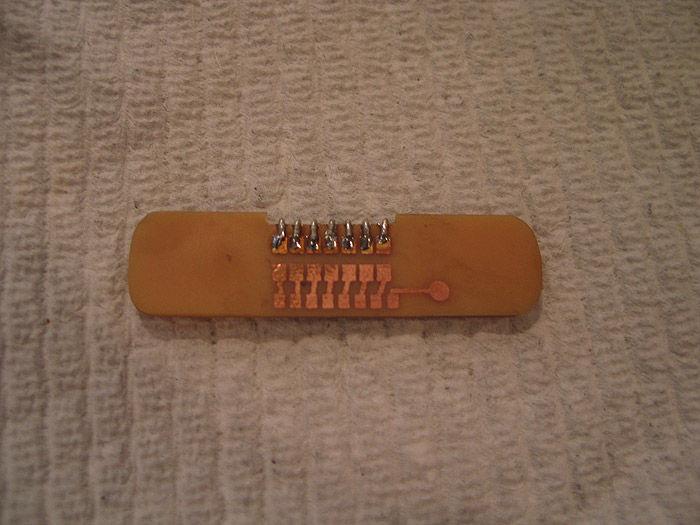 quick mock up:
(again the switch pcb is in place already.. the custom pcb's are almost forming a box to support each other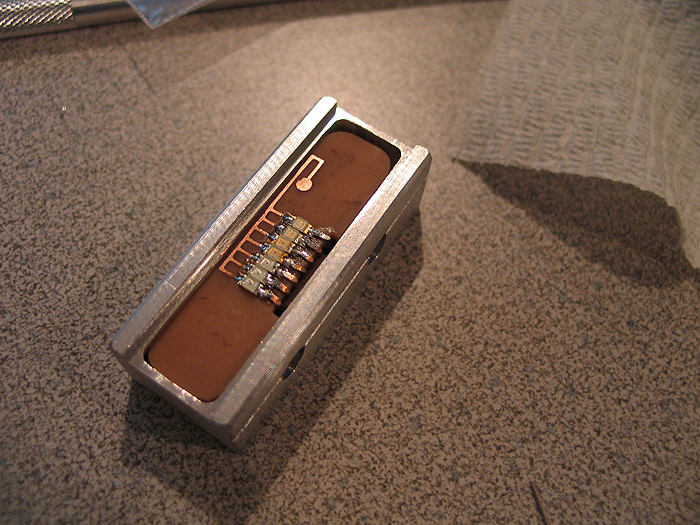 ---------------------------------------------------------------------------------------------------
got a couple hours the other night to finish 95% of it up... (I think 'real' professional PCB's would serve best here)
got the bottom half of the bar graph competed (resistors soldered, wires soldered..etc)
used 1206 resistors.. all I had at the time.. (yesterday my 0603's came.. had I had those in my plannign stage..I think everything might have been topside mounted....oh well v2 I guess..lol..this is my PoC)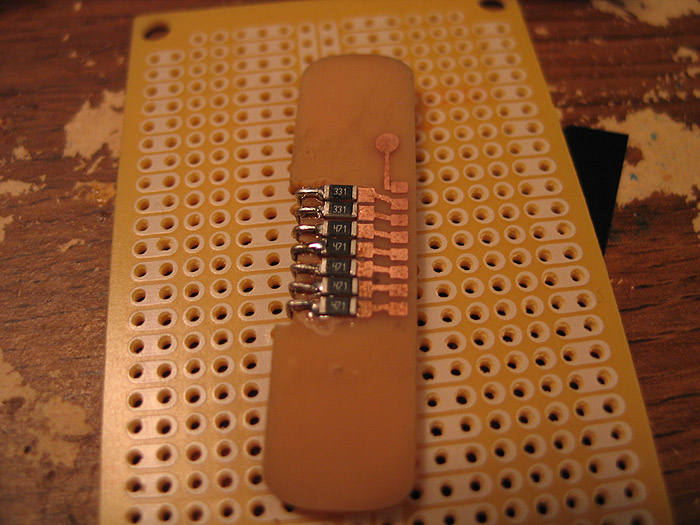 still not quite sure how/where to tap the V++ to.. I have a few ideas...not a big deal though any place will work)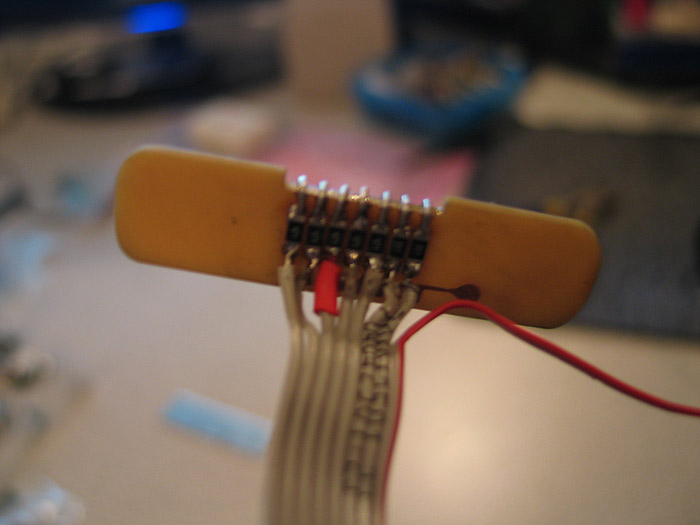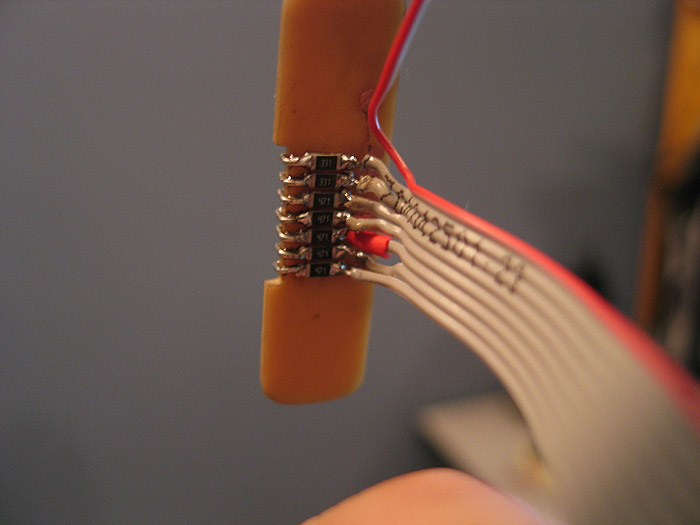 quick test of being lit up.. (had to replace 2 leds as I think they were 'damaged' by initial placement? maybe soldering too hot? different bin? one was of color.. when lit up bright..then gradually died out after a few seconds)..anyways replaced them
2 x green
2 x yellow
3 x red
each resistored, each individually addressable... (so can be direct driven, used with CF, or as PLI) =)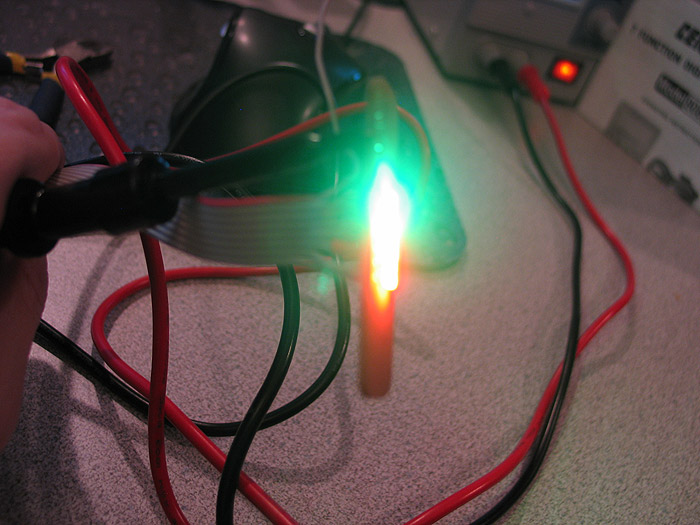 quick mock up of the side/switch PCB inside the box. and the switches/caps/stems I made for them.. (still need to be shortened a bit..but they are close enough to work and show the effect/style)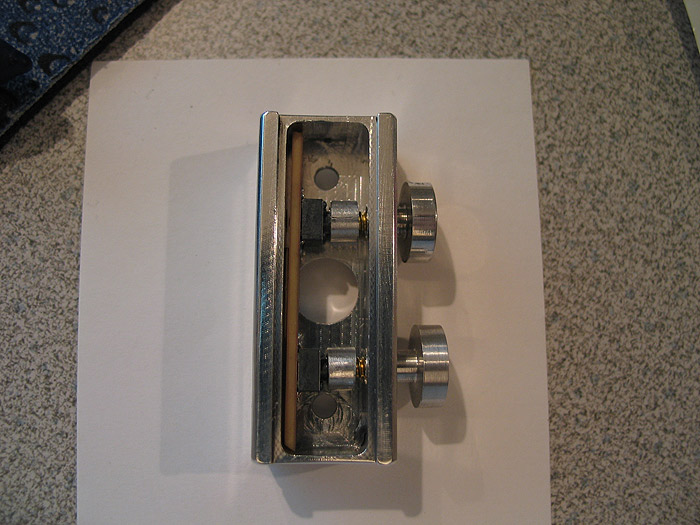 more pics of the 'switch caps/stems'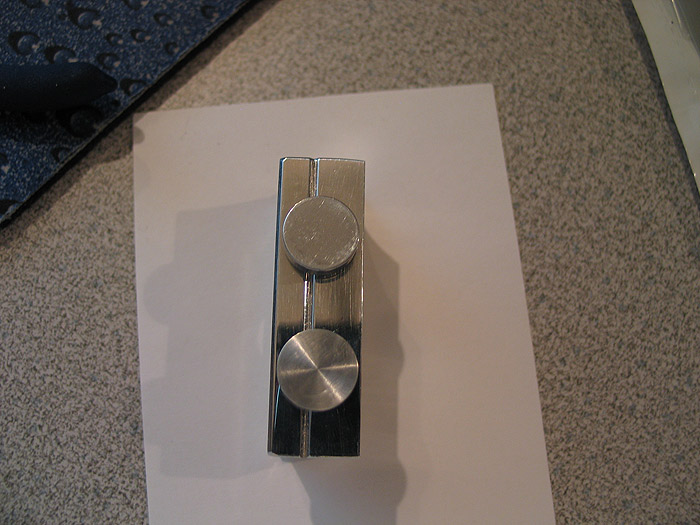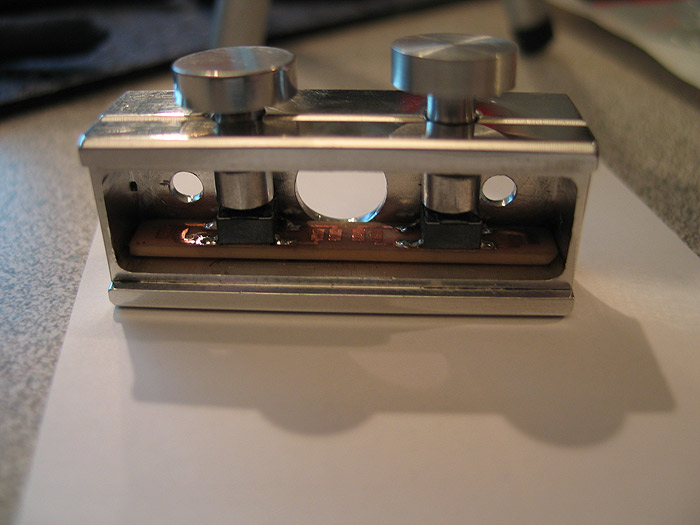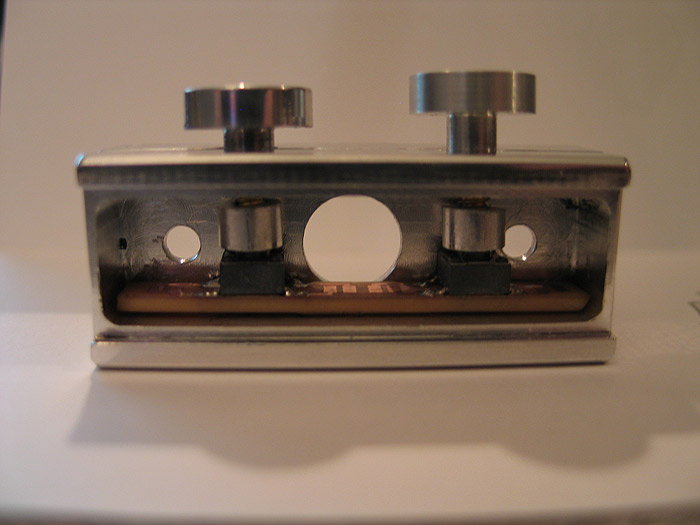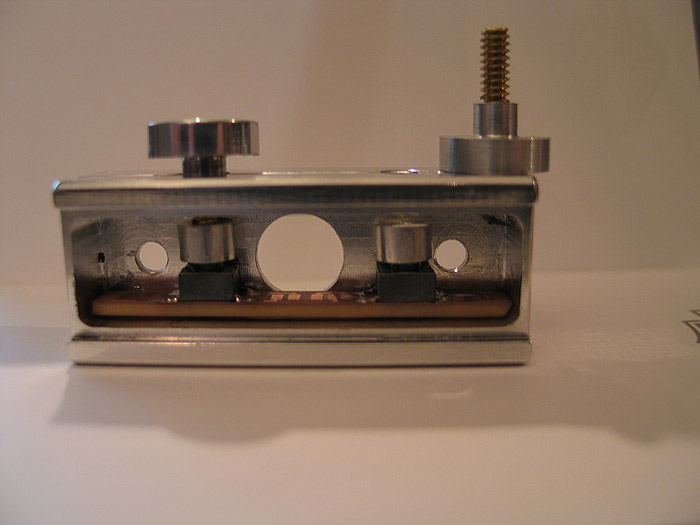 the pcb's took about 30 minutes total to make.. (probably another 15 prior on trial and error on printing out paper copies and doing size checks)
now that I feel the idea is 'sound' I'll go back and plan it out a bit better.. (this is supposed to still have recharge port added..but Im not sure after implementing things this far it will make the cut)
time to break it down.. pc the control box BLACK..
buff/polish the 'switches'...
and complete the 'top'.. which is an already sized aluminum strip that sits flush like any normal 'card stock'
there is NOW window cut/milled out of it yet through for the bar graph.. =(
enjoy.