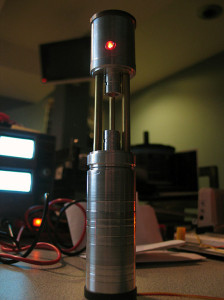 I dont think I ever posted these (I didnt see them at least in this thread)
I expanded on my 'xCore' (cough cough)..lol..
to make in more like others (Goodman, Big Ez commented on..etc..etc) about making the 'core' a stand alone unit..
I tried to make it generic enough to work as many build as possible.. (chokes etc..probably wont work without custom install & wiring..)
I made a couple like this where the battery pack, crystal chamber, LED & switch housing is all on unit.
I can fit 2AA & a USB board in the battery compartment, behind the speaker....so speaker, battery & US board.. think of TCSS all-in-one sound system with a 'sleeve' over it..
I went for mounting the switch as HIGH as possible tot he LED as I could.. about 1" down from TOP of led heatsink )a lot less from bottom of heatsink)
the 'crystal' stems/holders both were made to hold 3mm chrome bezels from RadioShack.. the backs are count ersunk to hold nut and screw in place to lock.
so each one 'can' have an led in it same color, different colors.. RGB accent leds..etc..
I dont have any crystals yet to play with..
but the led holder stems will be cut down (faced) to make them a little smaller....as well as the brass rods/threaded rods.. to match whatever crystal I end up using.
right now I think its about little over 1" long crystal room..
after final cuts, it will be around 6.5" I'd say..
these were all rough cuts, eyeing things up for the most part.... using junk/crappy jigs..
once I get some measurements, prototype results..I can make some nicer ones sanded and polished..etc..
switch is illuminated switch of course..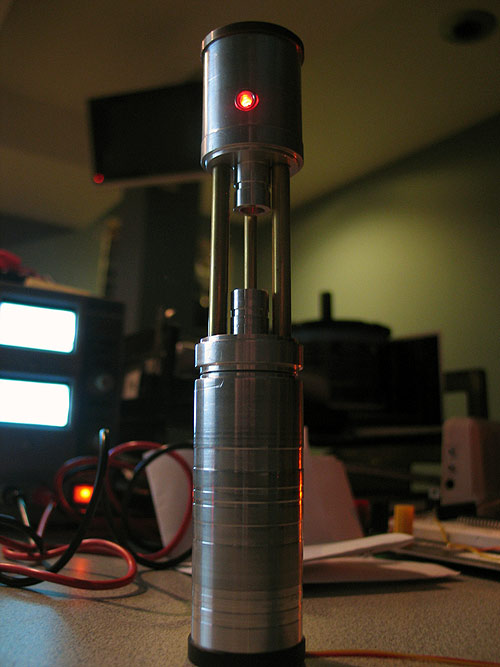 you can see light here..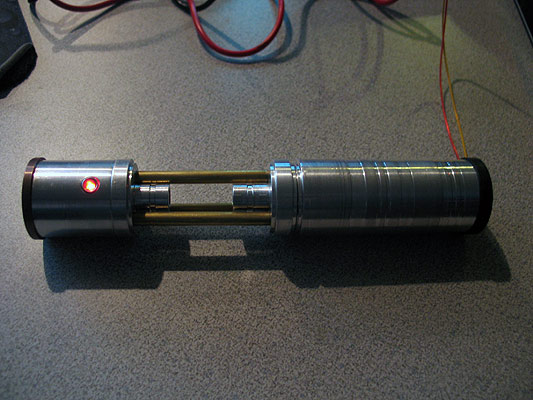 checking out different 'stems' and switch caps/heads... most have hole drilled in shaft to let light through..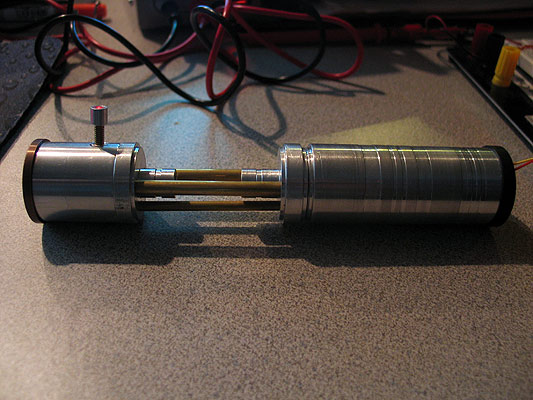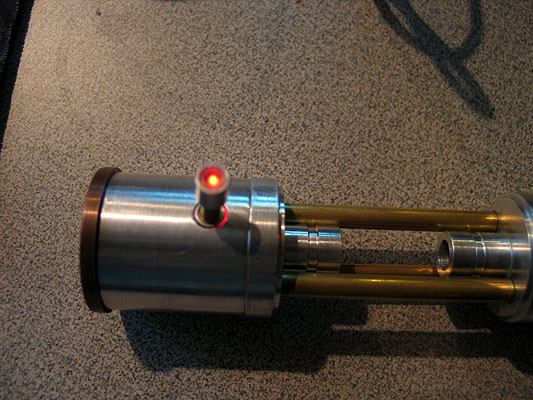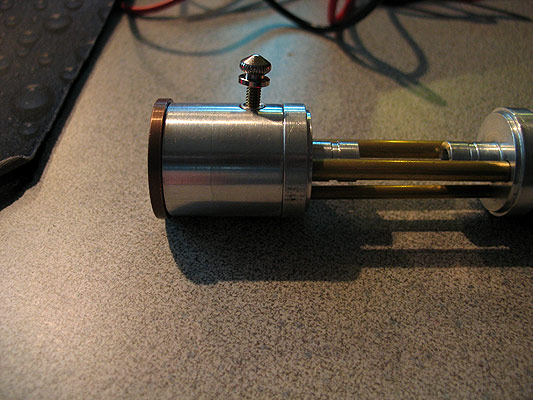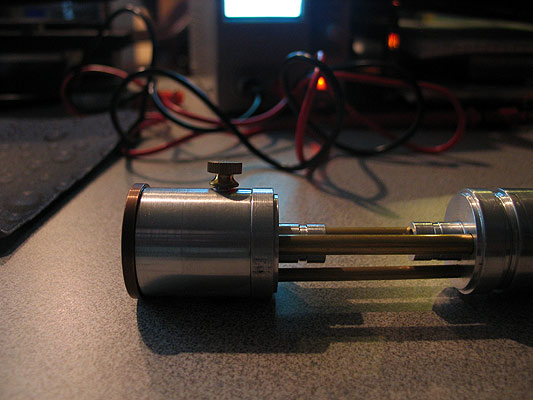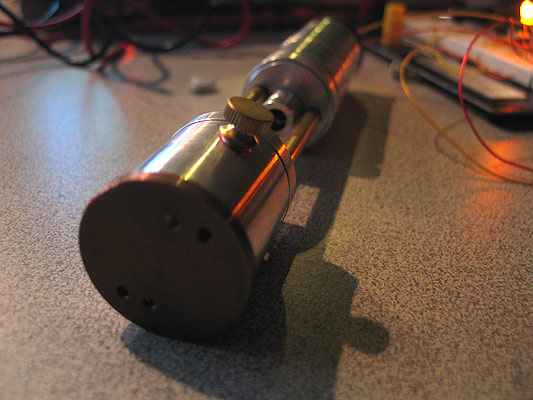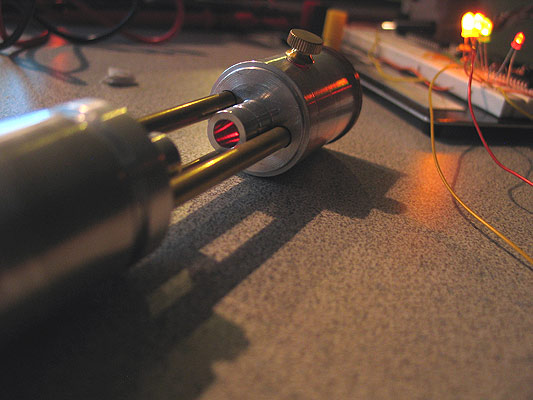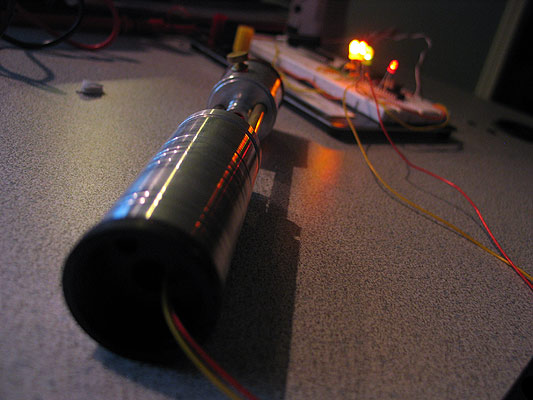 most of the sections are 'modular'.. and can be broken off from the 'main' core (if you will).. to work with specific saber designs..
all of these of course take advantage of the MHS 'locking' feature for the speaker and/or the heatsink..
I 'piggy' back off one of those (depending on the saber design and the core design).. and use that part to lock & secure my whole core down.
in these pics.. they are actually in-accurate.. that is a stock width speaker holder I am using..
however (unless I measure perfectly).. because I am using the heatsink to lock my core down..I need to turn down the the OD of the speaker holder...so it can fit inside of the hilt body...
the holder needs to be turned down 'slightly' t be used with the sleeve/bucket.. but the OD needs to be turned down more for it to fit into a MHS hilt..
wiring is tricky..you can only get some many wires up the small 'false tube'.. I think I got 7 or 8 up there..small gauge.
and getting 2AA and a US board in there..take some serious Eastern cram-fu. but it works.
I think I can make that small OD false brass rod a bigger (normal sized) one to allow for more wire room.
anyways.. its pretty clean wire wise. all hidden.
some decorative lathe & mill work on the parts/sleeve and they could be pretty slick looking.
feedback appreciated..
thanks